Hello Interlopers!
Time for another weaponry-prefab from me! This time I picked up that old cannon concept you may have seen on Interlopers about a year ago, and re-made it from scratch using a bunch of new ideas and techniques.
My purpose was to develop a brush-based artillery-like weapon that could fire physically simulated explosive projectiles a considerable distance, realism-factor and detailed effects inclusive.
The gun somewhat resembles the German 88 mm gun (Flak-88). While I mostly used pictures of that as reference, I didn't really intend to put much effort into modeling my prefab after it (especially since I'm working with Hammer, not 3dsmax
). I did put a lot of love into the overall detail however, the special effects/entity work in particular.
I have NOT put any particular effort in making a nice-looking control interface for aiming/firing the weapon. I figured this was pointless anyway, since any mapper who may want to use this as a prefab would most likely come up with a more practical solution of his own suitable for whatever he/she is creating (this means no comments on the tacky button-controls, please

)!
Overview picture: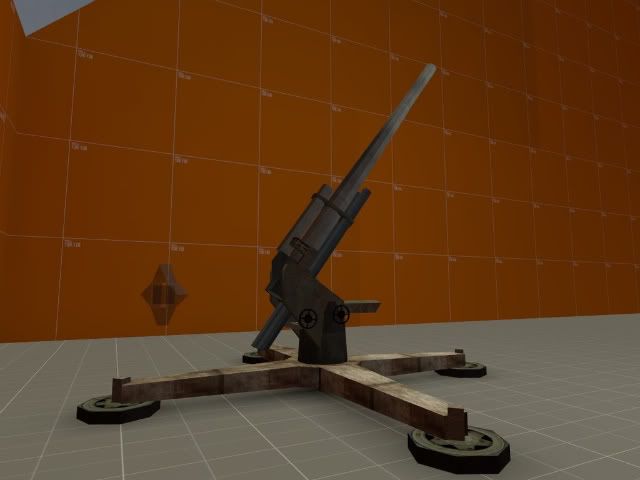 Here's two videos recorded in Garry's Mod by a friend of mine. The purpose of the random glass bottles is to illustrate the global quake/shock effect. Also, the gun controls shown in the video has been replaced with a more discrete, transparent set of buttons (shown in the picture above).
Shooting the targets:
Showing the effects better:
The basic concept behind propelling the projectile such vast distances is thrusters. Therefor, there is theoretically no limit to how far you can make the artillery reach (I.E you can specify exactly how far you would like the projectiles to travel), if you would use it in your own map.
This technique is suitable for most types of projectiles, since thruster is a very favorable, reliable and versatile physics entity. You could, for example, create guns on battleships, or missile pods, or similar weaponry, with realistic handling as result.
That being said, I see nothing that hinders you from attaching this type of weapon to a brush-based vehicle
Download link here:
http://filesmelt.com/Filehosting2/downloader.php?file=artillery.rar
Try the testmap, enjoy and please comment!

//Ace