Over at
Half-Life Short Stories
we've been busily working on Paradigm Decay and have made quite a bit of progress since our last media released a few months ago.
It's been 13 months since HLSS began development and we've made quite a lot of progress but we're currently in desperate need of some character modelers. So if you fit the bill then feel free to apply at the
forums
.
First up are 4 new concept images...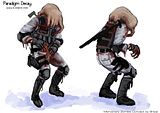 ...new snow effects courtesy of Noodylan...
...and some screenshots of a WIP map.