A few additions to WWMT:
Version 1.45 released 05-24-2011
•
Added
Material Library Generator
•
Added
Quick Properties
(buttons next to proprties in Quick WWMT section) to set all selected WWMT helpers to the associated value.
•
Updated
code to utilize objects that have Bone On turned on so that they can be used in ragdoll exports without a Skin Modifier. (Sorry this is cryptic... but I'll explain when I have time...).
UI for the Material Generator: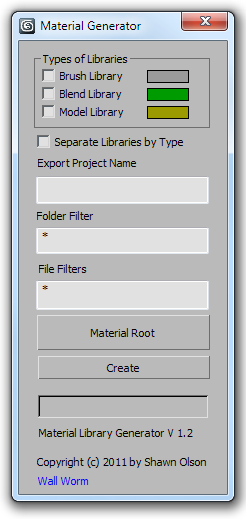 Updated UI for the Utilities: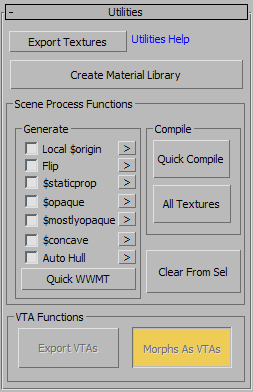 The Material Generator is one of the new buttons in the Utilities Rollout. Also... the new little arrows let yet set properties en mass with WWMT helpers in the scene.
The VTA buttons in the Utilities Rollout are not yet available. I am working on adding VTA support to the exporter... but didn't have time with this update.
I'll be out of town for a week... so I'll be slow to respond to any questions.